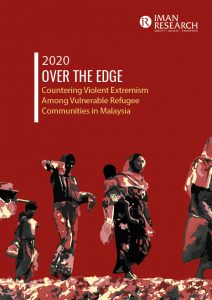 Over the Edge: Countering Violent Extremism Among Vulnerable Refugee Communities is a landscape review that investigates the vulnerability of the Rohingya community in Malaysia towards violent extremist groups. The report dives into their lives and what they think of their situation.
Our findings compounds the humanitarian crisis the world urgently faces, and solidifies the need for urgent action.
This report is made possible by the good work of our team members — Dr Mohd Adib Al Samuri, Nur Nadia Lukmanulhakim, Farah Hanip, Daryl Loh, Tadzrul Adha, Nur Farhana Che Awang, and Sabrina Idilfitri. We hope that this report will shine a light the condition of refugees living in our country, and what we can do to make things better.
Download Full Report
Download Executive Summary (ENG) | (BM)
Download Press Statement (ENG) | (BM)