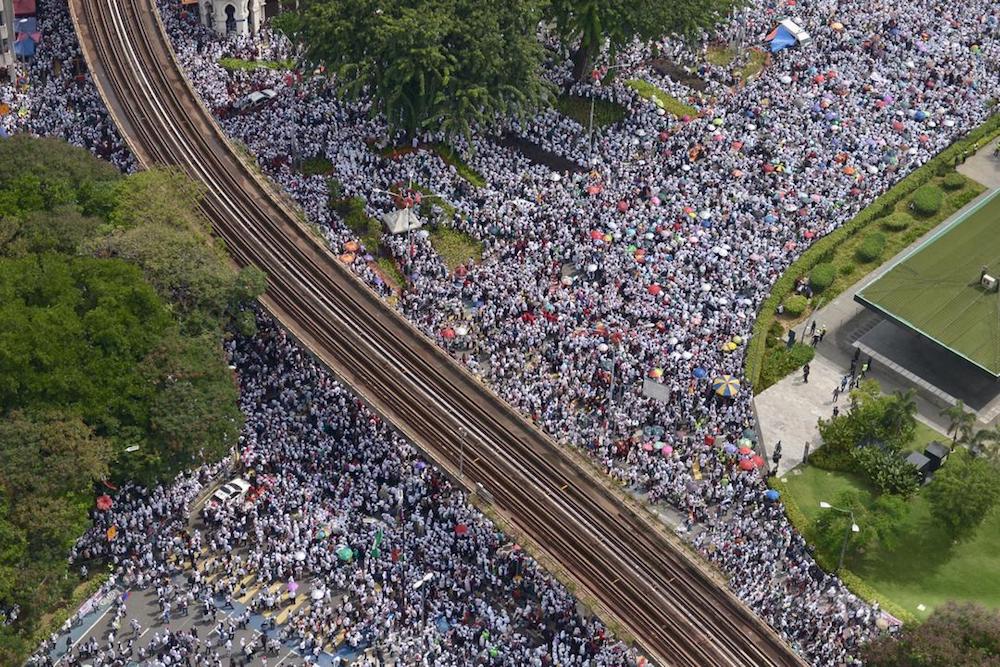 (Malay Mail Online, 2018)
2. May 2019
It's been a long time since I did this: a buka puasa roti canai at Bala's with a friend. I thought back to the many times I had done this before – all these dinners could only happen when I was single. You know how it's like. Marriage. A hungry husband. And if it was the fasting month, like how it was tonight, I'd be rushing for terawih prayers.
But it's also been six months since I met my friend, and I like my friend. He's funny, kind, and was there for me when I hit some rough times. He's also a walking encyclopaedia of Malay healing rituals and Malay-ness. And I had been back from London for some months already, and I needed to pass his gift to him.
"Eh Kak Long, kenapa susah-susah dapat hadiah ni…"
"Dah beli dah. Jangan komplen."
As we settled into our dinner, I asked what had been intriguing me for the past six months.
"Apa kejadah kau ni masuk rally anti-ICERD tu?"
I was in the UK sometime around November 2018, babysitting my sister's children, and one morning, I logged onto Facebook, to see that a rally of 50,000, 5,000, (it's all relative, these numbers) decrying ICERD.
I saw a few relatives, and quite a number of the popular kids in school and college, participating in the rally. This definitely was not the usual Bersih crowd. Actually, I'd consider these people rally virgins. What the hell made them pop their cherry?
There were many post-rally photos. Wefies, as we say it now. The rally virgins that I recognised, weren't dressed for the event, but they were pleased as punch. My first thought was, Were you there to defend your economic rights as Malays, simply because you benefited from business? I certainly couldn't see these people socialising with the kids from UBU (Universiti Bangsar Utama – its founder is the flamboyant activist, Hishamuddin Rais) or the PPR flats (low cost housing).
One person I recognised was my friend. The very friend sitting in front me at Bala's. He had a big smile plastered on his face at the rally. In one of his postings, he wrote,
"#KL812 Ini himpunan bantah ICERD di Melaka minggu lepas (24 Nov). Media blackout. Adalah sikit dapat liputan. Yang datang ni bukan jaguh di FB. Bukan juga pelampau liberals jauh sekali chauvinis. Yang datang adalah kelompok senyap, Melayu-Melayu yang korang dan aku dulu selalu kutuk tuduh macam-macam tu…
Perhimpunan ini aman damai. Gempak! Mereka tak turun sebab Hadi atau Najib. Dua ahli politik ni termasuk yang lain2 bukan faktor pun. Yang jadi tonggak kesatuan ialah semangat persaudaraan merentas kabilah-kabilah politik kepartian serta kepedulian untuk mempertahankan Perlembagaan Persekutuan dan keamanan yang dinikmati seluruh warga selama ni.
8 Disember 2018, Sabtu ini akan ada lagi satu rapat raksasa di Dataran Merdeka, ia bertujuan sebagai himpunan kesyukuran setelah kerajaan umum tangguh ratifikasi ICERD. Aku akan turun nyatakan solidariti. Peduli apa latar politik aku selama ni. Aku hanya mahu Malaysia terus aman dan tidak diganggu gugat ejen asing yang selalu mengeruhkan keadaan hubungan sesama umat Malaysia.
Ya. Biarpun dipanggil himpunan Melayu, himpunan ummah, yang mungkin korang tak berkenan sebab korang kata itu sebagai 'rasis', korang mungkin tak perasan bangsa itulah juga yang terus berdiplomasi dan teguh dengan kontrak sosial-menjadikan keamanan sebagai teras terpenting dalam pembangunan negara.
Ya. Senyap bukan lagi satu pilihan…
Berjumpa kita di #Himpunan812 #Daulat812 #KL812"
He considered the rally a success as it united all Malays from all backgrounds. Be they PAS or UMNO or even PKR supporters, that night, all of them were united to uphold Malay and Muslim rights.
I nodded. One of the things you are trained to do when you are a researcher or write for a living, is to not judge.
"Kak Long!"
"Pedia."
He looked to the left, right.
"Jangan cite sape sapa tau."
"Okay…"
"Dulu," he whispered. "Aku Kristian, tau."
"Apa?"
"Yea… aku keluar dari Islam dulu, jadi Kristian."
I blinked. 
"Why?" I asked.
"Pasal anu tu lah. Aku geram dengan ___ (a religious political party). Tak endah hal budak budak Melayu macam aku, asyik nak berjihad dengan _____ (an ethnic based political party), masuk syurga, orang Melayu macam mak bapak aku, ke mana?"
"Ahhhh…."
"Tapi. Aku dah tobat dah."
"Hoh."
"Aku dapat … enlightenment. Sebelum rally Anti Icerd tu. Jadi, aku lari kat sejadah aku, aku angkat shahadah balik, aku solat tobat banyak banyak, Ya Allah, terima lah insan Kau ni yang berdosa, kalau accept tobat aku, aku akan perjuangkan bangsa Melayu dan agama Islam."
I stared at him.
"Kak Long. Kak Long nak pitam ke ni? Macam pucat je? Kak Long!"
"Ada kemungkinan saya memang nak pengsan…"
I rubbed my temples. It's one thing to hear people joining ISIS because they felt that the state had failed them, it's another to hear someone ping ponging his faith, because he was angry with a political party. 
*My friend requested to not name the organisations outright. But you already know anyway.*